---
You be needin' some Crew ? or maybe you wantin' to be Crew ?
Get Signed Up HERE See the Fall Series Crew List HERE
Oct 14
Sign up for the New Fall Series Crew List now.
---


2014 PGSC Moonlight Regatta is Tonight!

Moonlight Regatta NOR is HERE

Moonlight Regatta Entry is HERE

Moonlight Regatta SIs Rev 1 are HERE
( SIs Had a minor revision of a date that was in error )


Oct 24
---

Saturday, December 6, 2014
Come join us for an evening of dining and dancing.
Tickets are $35.00 per person and will be sold at the November club
meeting as well as by mail. Refer to the Sept 28 email blast for more info.
Attendance is limited to current PGSC members and their significant other.
MAIL ORDER REQUESTS FOR TICKETS MUST BE RECEIVED
IN THE PO BOX BY NOVEMBER 25TH.
Reservation Form


---
Port of San Diego touts San Diego
as Being the Perfect AC 35 Venue

The Port of San Diego is making a final push to land the America's Cup, including releasing a splashy video touting the bay as a perfect venue for so-called stadium sailing. San Diego is competing with Bermuda, a British territory, to host the 35th America's Cup in 2017. The video, posted online Wednesday, says organizers can count on a breeze of more than 8 knots on San Diego Bay 93 percent of the time to ensure a reliable TV schedule.




Watch the video HERE


Oct 24

Editor's note - 8 knots of wind to count on at San Diego pales in comparison to
the wind that blew in the 2013 AC 34 competiton in San Francisco Bay.




---
Loving The Lowly Hose Clamp

After a 27-foot cruiser sank at its dock, investigators couldn't figure out where the water had come from. When the boat was raised, they found that all the seacocks were closed; there had been no heavy rains recently; and the boat's bilge pumps had been operating, though the battery was dead from trying to keep up with the inflow of water. Eventually, the surveyor spotted an outdrive shift bellows that seemed a bit loose. The hose clamp that was supposed to hold it in place was still there and appeared to be serviceable. It wasn't until the surveyor started to remove the clamp that he noticed it was completely rusted in half on the side opposite of the screw.



Read more HERE



Oct 25

---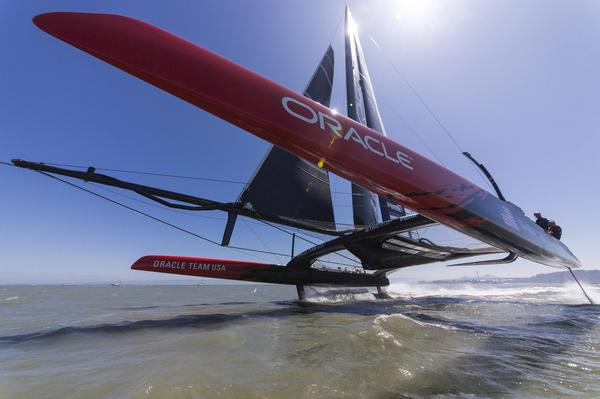 Oracle team up with Airbus for America's Cup

America's Cup holders Oracle have signed a technology agreement with leading aircraft manufacturer Airbus for its 2017 defense. The deal will allow the yachting syndicate's design team access to the know-how of Airbus' engineers and experts in fields such as aerodynamics, instrumentation and simulation, composites, structures, hydraulics and data analysis.



Read more HERE



Oct 24



---
A girl, a boat, a dream


Circumnavigating the world solo was never about setting a record or finding fame for sailor Laura Dekker. It was about one girl and her boat on an adventure into the big blue. It was about fulfilling a dream that had been gestating from the moment she first sailed a boat alone at age 6. Then her father, Dutch sailor and boat builder Dick Dekker, gave her Tania Aebi's sailing memoir Maiden Voyage for her 8th birthday.

The dream would have been spurred on by the solo voyages she made in her boat for weeks at a time at the age of 10 up and down the rivers of the Netherlands and around the islands of the North Sea. But it was when she sailed by herself from the Netherlands to England at age 13 that she realised she was ready to take on the world.



Read more HERE




Oct 25



---
Windfinder wind forecast -

---
---